Warminster Maltings 360 Design
Warminster Maltings is Britain's oldest working maltings where they continue to handcraft a range of Superior Malts. The company has been in existence since 1855 and as part of a recent re-structuring, it required a fresh approach to its marketing material.
Branding
The use of the logo was inconsistent, the website and literature were outdated and didn't really convey the history and services of Warminster Maltings. Several versions of the Warminster Maltings logo were being used. The very tradtional font which had been used on the exterior of the building for many years was tweaked. Then rolled out across all areas of marketing material.
Warminster Malt is one of the best products on the market. However, the associated marketing material was outdated. Originally asked to create an advert and an email marketing post to promote the new management structure; it soon became apparent that "The Maltsters" required more help than originally thought. The whole range of marketing material needed to be pulled together with a uniform look.
Working with a selection of existing assets, we put together a range of designs. Adding our new photgraphy and ideas along the way. A few concept boards later and the development of the new marketing material began in earnest.
For 2021 we have produced 3 videos for Warminster Maltings. A short film where Robin Appel goes through the process of making floor malt. A Tour of the Maltings with Dr Janet Pennington and a promotional film for LD Carslon, the distributors of Warminster Malt in the USA.
Leaflets & Email Marketing
The initial challenge was to inform all of the existing customers that the business was moving forward under a new management team. This was achieved by the way of email marketing and a series on adverts in the Trade Press. The campaign was built around Warminster Maltings being the oldest working maltings in Britain and also the only one remaining in the West Country.
This was the project which started the create relationship between Juice Factory and Warminster Maltings and the news was very well received in the industry.
The New Website
Exhibitions can be expensive so make sure you sign off all of the visuals and know exactly what you are getting.
Make sure you have plenty of time to get everything printed.
If you have a Shell-Scheme practise putting the stand up and back down again.
Take pictures while you do your trial run
Before: The Old Website Design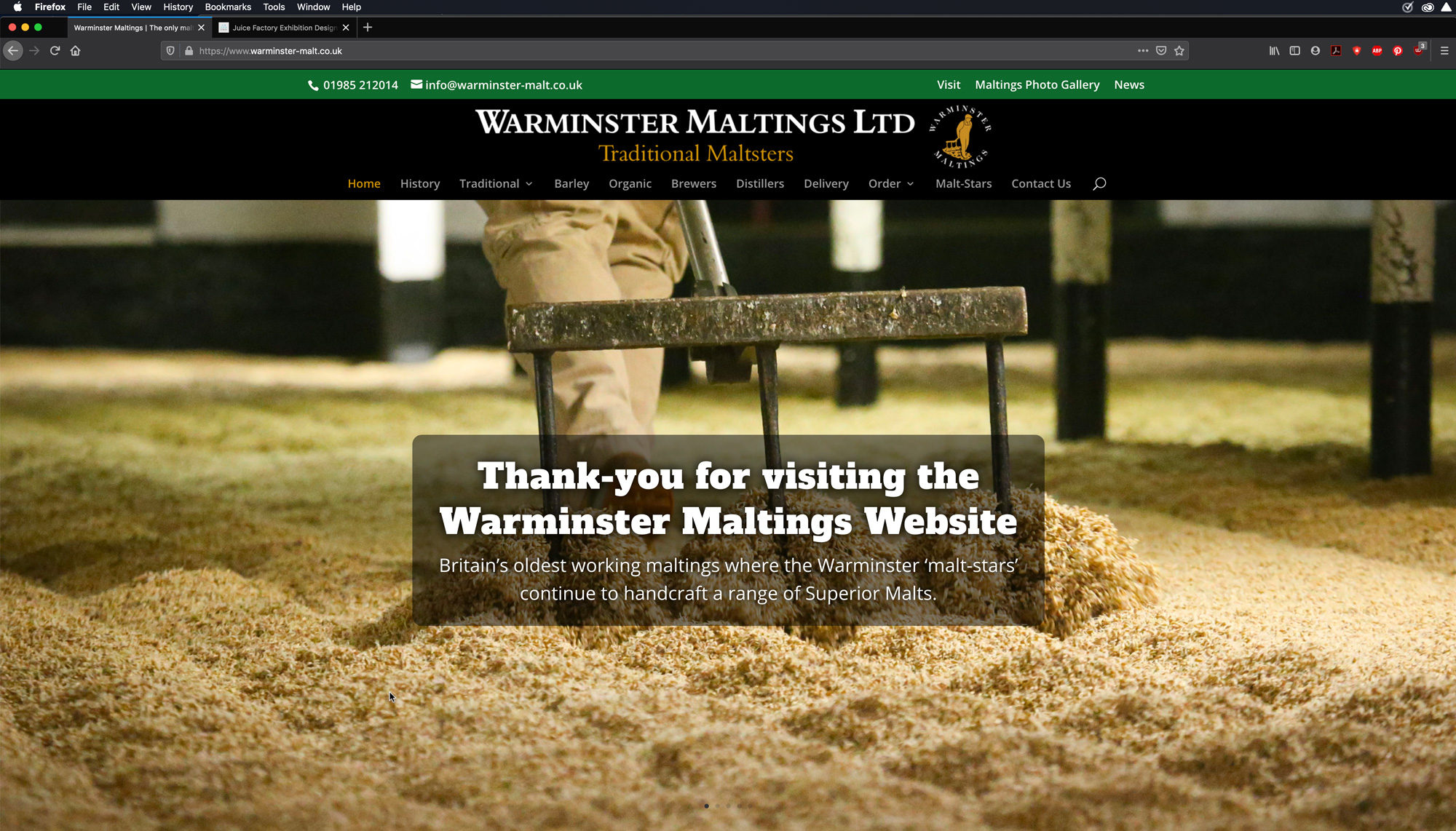 After: The New Website Design
Image Library
Our first task was to review their marketing assets and sifting through some of the historical imagery, it was apparent that some of these photographic gems were underused.
Product Photography
All of the malts were individually photographed to show the range and colour variations, shown at full size on the website.